Do want to learn how to start a blog, In 2022 there are lot of we have lot of ways to create a blog and also a lot of competition. Many people started blogging and are successful in this career now.
Now lets We learn how to start a blog step by step using our Blogging Beginner's Guide
How to start a blog in 2022 step by step for beginners
1. Pick a topic for your blog
Before starting a blog topic selection is the most important thing because you write content mostly on that topic.
Our suggestion is select a topic based on your intrust. Which topic are you more curious to learn and which topic do you have enjoying?
Select the topic based on your intrust which helps to spend more time and intrust to learn something new on the topic. you can able write easily on known and intrusted topic.
you can check who is succeeding in their blogging are started their blogging based on their intrust.
if you have intrusted on traveling start a blog on traveling. if you have an interest in technology start a blog on the tech blog.
Note: Think deeply and select the correct niche(topic) for your blog
2. Select a name for your blog
Blog name selection is one of the most important factors which describes your content so choose the correct name for the blog.
Tips for Blog Name Selection:
Blog name ( Domain Name) Should be short and eye cache and easy to remember.
The name should be unique.
choose the .com domain as possible
Avoid using numbers, hyphens, and homophones
Avoid using misspelled words.
Some bloggers prefer blog names should be prevalent in their content but it's not necessary to make sure the domain name is easy to remember and short.
One myth is that Based on SEO if a blog name should be relevant to its content. there is a chance to get some of your articles on the first page when a user searches a topic containing your blog name.
When you check many blogs, whose content is always top on google search results but their blog name is not related to the content.
Example neilpatel.com, He started a blog with his name but he posts content on the topic of digital marketing. now he is one influencer who earns a lot of income every month.
Note: If you want to take hosting for one year or more. Don't purchase domain names individually most of the hosting service providers give free domains with a subscription of one year or more.
3. Choose a Blogging Platform:
There are a lot of blogging platforms are available in the market. Some of them are paid and some of them are free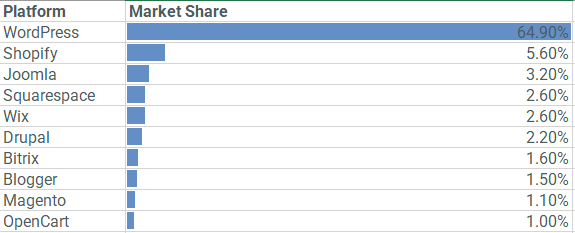 WordPress is the topmost cms used by many bloggers. I prefer a self-hosted WordPress site to start blogging.
WordPress comes with a lot of themes and plugins to customize your blog. and it is easy to optimize your content for SEO.
you can also use free cms like Blogger and Tumblr for bogging but they have a lot of limitations compared to other CMS.
If you are using Blogger simple visit our other article – How to create a blog using Blogger and if you are using WordPress follow our article – How to create a blog using Tumblr
4. Hosting
Note: If you choose Blogger or Tumblr No need to host your domain. Those are free services you can directly connect your domain to those services.
After selecting the domain name choose the reliable hosting provider.
How to choose the best hosting provider.
1. Select who provides instant support and reliable service
2. Compare plans and features
3. Make sure is always up whatever server provides choose, no downtime for blog
4. Most service providers give a 30-day money-back guarantee so try different service providers and select the best one
5. Performance is the most important factor. so compare the speed of different providers and select the best one.
6. Security – the select a service provider who provides an SSL Certificate
Our Recommended Hosting providers are
Bluehost: Bluehost is one of the leading hosting providers which is recommended by WordPress. Bluehost provides 24*7instent support and provides legendary services to their customers.
Dreamhost: Dreamhost is the Second most leading recommended hosting provider by WordPress. It offers great performance at the best price.
A2Hosting: A2 hosting provides good services at pocket friendly price. If you thinking of services at a low cost try this provider
5. Install CMS (Blog Platform on at Hosting Provider)
What ever the blog platform you have selected install that one on you site . Start you blogging. If you have any doubts about the particular platform ping us. We will help you to resolve your issue.
6. SEO
Optimise You website for SEO. Search engine optimization is the most important in Blog success. you must follow SEO rules and do your blog SEO friendly and get visitors to your website.
Share you content on social media to get more visitors to you site. It will create backlinks to your website. That helps increase the page ranking of your article.
Can I purchase a domain and hosting at two different providers
Yes you can purchase domain name at one provider and using domain name servers you can pointing that domain to another hosting provider.
If you have any suggestions or relevant questions on the topic simply comment to us below.